QUINTANA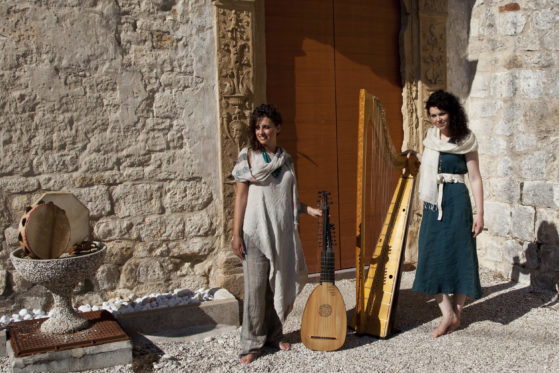 Italian-Czech duo Quintana was created in 2010 by lutenist Ilaria Fantin from Vicenza together with Prague's harpist Kateřina Ghannudi.
Their happy reunion took place in Verona, where both successfully completed the academic musical studies in their fields – Archlute and Renaissance and Baroque harp (Conservatorio F.E. Dall'Abaco, 2012). Both musicians had previously spent several years performing early music in different ensembles and musical formations in their native countries and abroad, including recently in particular collaboration with singer Pino de Vittorio on the recording project "Siciliane – The songs of an island" released in 2013 for the label Glossa Music and performed together at the most prestigious concert stages (Concertgebouw Amsterdam, De Bijloke Gent, Femas Sevilla, NDR Das Alte Werk, Festival Radovljica, Festival All'Improvviso (Poland)… )
Music from the middle ages to the Baroque period and the common interest in folk tunes and culture of the Mediterranean region are the roots of Quintana's original and suggestive repertoire. Quintana carries out instrumental pieces and songs with its own arrangements led by musicological research, creative freedom, instinct and personal taste.
The duo was presented at multi-genre festivals in Italy, Slovenia, Croatia, Czech Republic & Portugal. The second Quintana's cd called "I canti dell'altalena" was released in 2017.
Kateřina Ghannudi – baroque harp and voice
Ilaria Fantin – archlute, voice and percussions
Visit Quintana Website